Films with Music by Helen Simmins-McMillin
These clips are in both RealPlayer and
Quicktime
formats, each should be marked, but you'll need the players. You'll also need to wait for the download, but then the clip should play automatically. Most people shouldn't have any problems. If you do, see the
RealPlayer help page
, the
Quicktime help page
, or, if that doesn't work,
e-mail
me and I'll see what I can do.

Father Christmas
Written Directed by Marie Rose, Starring Dakota Fanning (I Am Sam, Man on Fire) and Steven Fanning. (Judging Amy)



Father Christmas (RealPlayer - Complete: 63Mb) is a touching, patriotic story about a little girl's realization that the gift of family is more important than presents. On Christmas Eve in 1968, six-year-old Army brat CLAIREE (Dakota Fanning) learns the hard truths when her bullying older brother, MICKEY (Stephen Fanning), informs her that Santa isn't real and that their absent father is actually serving his country in the Vietnam War.

Seeking Salvation
Written and Directed by Nathanial Davis for the New York Film Academy.


Seeking Salvation (RealPlayer - Complete: 43Mb) is a fun little comedy about two bible salesmen (Damon Pitt, Tate Chalk) who try to convince their last customer of the day (Joseph Beck) to purchase a copy. This one's pretty short, about 5 minutes, and has a jazzy kinda score.

Passion Fruit
Written and Directed by Jack Sekowski.


Winner of the 2001 Big Bear Lake Best Digital Short Film Award, this very short (about three minutes) comedy is about the perils of flirting with food. The Complete Film (RealPlayer 7Mb)

Break A Leg
Directed by Jacek Sekowski, Written by Jacek Sekowski and Marie Rose. Starring Marie Rose and Richard Debner.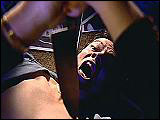 A frustrated actress, SALLY finally snaps after a callous casting director, TOM, calls her in to read twenty-seven times in two months, but never casts her. He awakens to find he is Sally's bound captive; a victim of her revenge against the industry types who have failed her. Now Tom must use every Hollywood trick he knows to negotiate the deal of his life. Little does he realize, when the outcome finally arrives, that in Tinseltown, fact is always stranger than fiction.
These are all RealPlayer files:
Opening (1.9Mb)
You've Had Fun (886K)
A Tasty Treat (663K)
Zesty Mint Flavor (1.5Mb)
The entire 15 minute film (24Mb) It'll take a while to download.

Saving the Endangered Species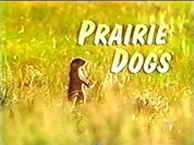 The Prairie Dog: The Living West (Quicktime: 10Mb) I really enjoyed scoring this one, it was quite educational, and these little critters are fun to watch. This is a short example. The Grey Wolf (Quicktime: 8Mb) Here's a small bit of some wolves playing, and a transition to some educational stuff. Also very short.

Films are presented for demonstration only, the authors reserve all rights. Please feel free to enjoy the films and point others to this page, but do not distribute any of the content of this site without obtaining permission from the film's owners first.


Want out?

Home

|

Music

|

Links